Some other projects I've worked on
AFIP
Contextual Research to understand users' needs.
Argentina's Tax Agency has a long history of poor usability, and people absolutely hating their Digital Services. I created the challenge for myself to properly understand the problem and my approach was to interview users and observe them interacting naturally with the website.
Recruited users

Created the interview script

Moderated interviews

Analyzed the data
Understand independent workers' needs, how they use the system, and what problems they find.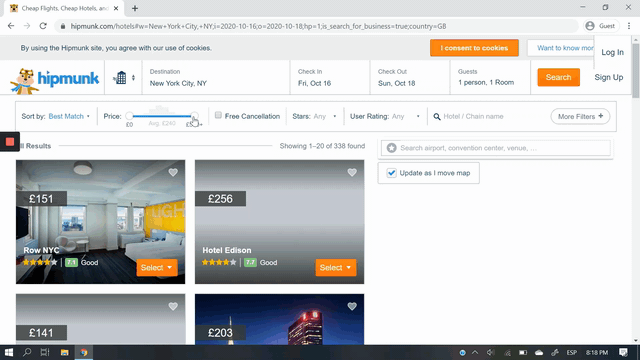 HIPMUNK
Usability Test to identify design problems.
Hipmunk goal is* to "​take the agony out of travel", but can people use the website to plan their trips? This research question was the starting point for testing usability. This project was part of the UX Research and Design Specialization.
​
*actually it "was". Hipmunk was out of business shortly after I completed this research. I guess usability issues weren't their biggest problems.
Recruited participants

Moderated sessions

Created a report to communicate findings
Learn if experienced users of online travel websites can use Hipmunk to plan their trips.
PlanUs
Research + Design Excercise
I started this project from scratch and, after some research and ideation, created the first Lo-Fi prototype of PlanUs, a mobile app that supports the collaborative work of people who live together. It was an excellent opportunity to practice my ability for Design Thinking.
Conducted informal research

Ideated solutions

Ran usability tests on a paper prototype
Understand the needs of people who need to plan and coordinate shared activities and design a solution.